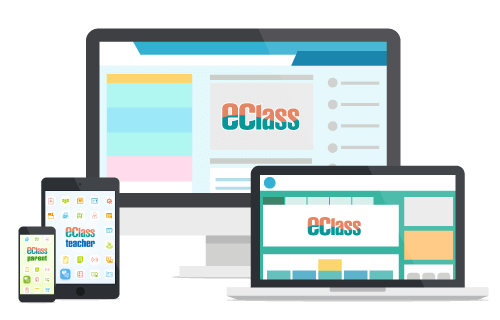 eClass IP 2.5 Integrated Platform categorizes all school activities into five major areas, namely, eLearning, eAdmin, iTools, eCommunity and iPortfolio. The system is designed to operate in coordination with the 334 new academic structure. With the Web 2.0 technology ensuring smooth site operation, a personalized and user-friendly eCampus is created for schools.
Compatibility with the New Academic Structure
Tested sorting engines on the platform allow schools to form students group with great flexibility and provide teachers with a clear overview of the student distribution pattern among all the electives.
Alerts on time or venue clashes allow schools to generate timetables in a more efficient way to reduce the administrative worksload.
The graphical school calendar supports loop settings by week or by cycle. Activities can be added onto the calendar at one simple click.
Centralized Campus Management
The features listed below serve as an index to address the school's needs in asset management, resource reservation and organization, and keeps teachers informed of what, when and where everything is, and in what direction the school is going.
Centralized settings for all subject information with no extra administrative input necessary.
Flexible setting on permission levels for users to minimize workload and to enhance cooperation within campus.
Automatic saving device archiving past records of the school to provide useful references for future curriculum designs and professional development.
Advanced Interface Design
 With AJAX web technologies ensuring a smooth operation process, the interface provides schools with dynamic user experience comparable to that of a desktop platform.
Classroom eAttendance system supports graphical seating plans of both general classrooms and special rooms. Teachers simply have to click on students' photographs to take attendance.
eNotice (electronic notices) and eCircular (electronic staff circulars), a convenient communication channel for announcements and information circulation on campus, support customizable circular slip format and automatic response statistics.
School News on the homepage ensures teachers, students and parents are updated with important information.
The specially-designed eSurvey questionnaire and Poll voting system assist schools to effectively gather information and data.
Access to personal information anytime, everywhere
iAccount displays all users' personal records, including attendance across the school years, award and penalty, transactions etc., making information updates and record checking more convenient.
eHomework allows schools to import in one click the homework schedule of every class for access by students and parents.