Student portfolio is highly recognised by educators for its important value, as it serves not only as a learning record but also a reflective guide along a student's learning journey. With this in mind, eClass has developed a comprehensive learning portfolio system, iPortfolio, which has been the most popular among schools in Hong Kong since 2011.
Designed in summative, formative and showcasing modes, iPortfolio comprises a list of advanced tools that help students compile and review their learning outcomes, set personal goals and prepare for the future. From logging day-to-day activities to gathering documents for university admission, the process of building your own iPortfolio is simple and seamless.
The 4 Pillars of iPortfolio:
JUPAS (for Secondary School)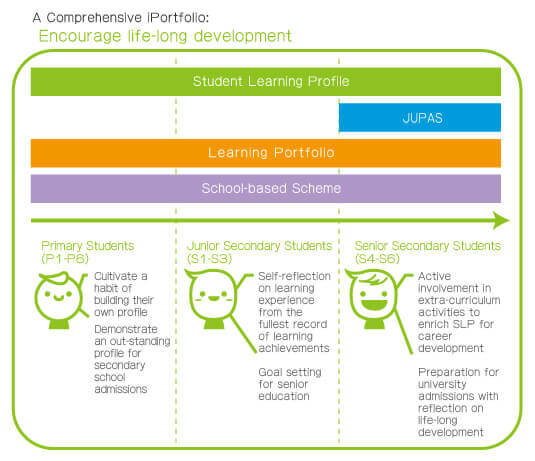 Comprehensive School Records
An integrated interface that displays a student's personal particulars and records in and out of the school in each academic year, such as their attendance, awards, extra-curricular activities, clubs (their post and performance), social services, academic results and OLE, etc.
A full academic record for each subject of the past years, with performance statistics and image analysis, displayed in cross-semester or cross-year layout, sorted by scores, grades or rank. Teachers can hence get a full picture of the changes in students' academic performance and accurately assess the student's progress
Reading Record, a newly added function, helps following a student's reading habit, interest and the number of hours they will spend on reading.
OLE & Outside-of-School Records
Students can hand in their "Other Learning Experiences" (OLE) activity records by themselves and await approval by teachers in charge
Students can also submit records of achievements and extracurricular activities taken outside of school, of which the school can decide whether approval is needed and whether they need proof from students
OLE participation hours are summed up and categorised into areas like community services, career-related experience, aesthetic development, physical development, etc. Students can find out their most and least participated areas and work out a balance
Teachers can view statistical reports sorted by students, classes, grades, term etc. and follow up on individual cases
A Variety of Report Styles
Different types of Student Learning Reports are provided: eg. "Student General Report" displays all items, "Student Learning Profile" fits EDB's requirements and the "Academic Report" allows printing of cross-term information
"OLE Hour Statistics" gives detailed records of the student's OLE activities
The school can customise their own reports to include specific records (eg. OLE, attendance)
Effective Data Management
The school will enjoy information interoperability, as the SLP supports WebSAMs export and data exported into CSV format, and can update data directly on eClass integrated platform
Maintain privacy by controlling users' access rights to student data
School leavers may browse their own integrated learning profile from the past
Various Uses of Learning Portfolio
Learning Portfolio may contain multiple uses
Portfolio can be subject-based, theme-based or term-based, allowing students to record and reflect on their learning process throughout the year
Each student can possess more than one Portfolio for different purposes
A variety of content input modes, including web-page creating and Blogging
Students can use pictures,  Flash, YouTube videos, audio clips or other multimedia elements to enrich the content in their learning portfolios
Integrated with PowerVoice, students can record audio clips online
Custom Portfolio Templates
Teachers may add or modify the content structure
Preset default input method, template, writing time (start/end) and guidelines to give students a structure and direction to follow when creating their portfolio
Peer assessment methods include sharing portfolios and leaving comments
Custom friend list for portfolio sharing
Portal for giving 'Like' to or sharing a portfolio on Facebook
Multiple Schemes at One Time
The school may launch different school-based programs as they wish, which can be anything from student development, reading programs, visual arts learning profile to parents' expectation for and response to students, etc.
The programs may consist of different assessment stages and multiple programs can be hosted at the same time
Class teachers, subject teachers, parents or other stakeholders may participate in the assessment process to help students reflect their work from different perspectives
A program can be sliced into several stages throughout the year. An icon appears to show the current stage
Set the starting and ending time of each stage and set criteria and methods of assessment
Flexible Management of Information
Easy-to-use questionnaire creation tool that supports various data formats, such as multiple choice, short answer, etc
Refer to related information when filling in a form, as the forms can be interlinked
All students' data can be exported as Excel file for analysis
JUPAS Management (for Secondary Schools)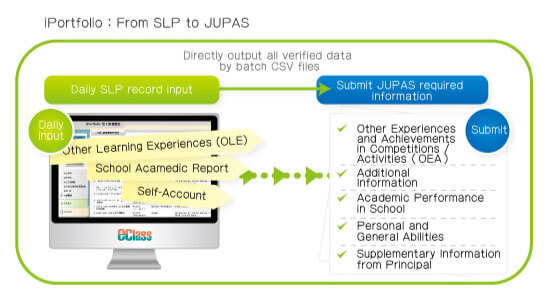 Apply with Readily Available Information
Students can look up the university programmes of which they have met the OEA requirement through the "OEA pairing" function, where their own OLE records will be matched automatically with relevant programmes followed by teacher's approval.
The school can further simplify the OEA submission process by bulk insert of CSV files for matching OLE records with OEA items in advance.
Students can draft personal statements with reference to their Student Learning Profile
A 'user guide' is provided with each item for submission so to help students supply all the required information on JUPAS
Each student's progress on preparing supporting documents for JUPAS can be tracked and verified on this overview table.

View the students' declared details for making approvals and prepare the School Reference Report (SRR)
Submit students' internal exam results based on the school's grading system (F.5 and/or F.6), their percentile in each subject and their over rating all at once
Mark students' declared information as Approved / Declined / Edited. For external records, the school can opt for an automatic or manual approval system.
Download all the above details as CSV files and import them directly into the new JUPAS system to complete the submission process of supplementary information.