Less workload, Better parent-school communication, School-based design, Higher efficiency
Ms. POON Pui-tze Money (Headmistress), and Ms. CHAN Yuen-ching (ITC)
The Truth Baptist Church Pictorial Kindergarten has been in demand of manpower to handle great amount of administrative data for their diverse lesson planning. To reduce such workload, the school implemented eClass Kindergarten Integrated System (KIS) in 2013, which consists of a wealth of e-solutions for recording student attendance, managing the library, issuing e-notices, keeping photo albums, preparing the school calendar, etc.
Keeping in Touch with Busy Parents
After implementing eClass KIS, Ms Poon, the school's headmistress says the system is really effective in simplifying work processes and improving parent-school communication: "a lot of the parents of our students have a full-time job, so it is quite difficult for us to arrange face-to-face meetings with them. However, with eNotices, parents can stay tuned to school news and sign off circulars at their convenience."
She says the school will gradually adopt more features of online administration in other areas: "we will begin with the smart card attendance system, library management module, eNotices, e-albums, iCalendar, etc., and so on."
Headmistress Ms. POON Pui-tze Money:

The most important factor we consider when choosing an online administrative solution was whether it could really lessen the workload of the staff.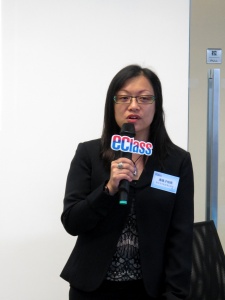 Headmistress Ms. POON Pui-tze Money is aware of the urgency to relieve the workload of her staff.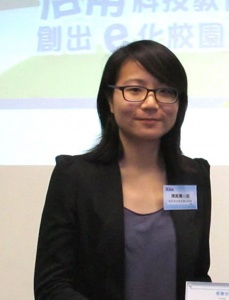 Ms. CHAN Yuen-ching gives a presentation on her insightful hands-on experience in promoting attendance system and library management.
Knowing Who's Going to Which Class
As the school holds different lessons at different times, it has to deal with varying attendance data every day. Ms. CHAN Yuen-ching, the ITC, says eClass has facilitated the setting of class times of different cohorts, giving the staff greater flexibility in managing student attendance. In addition, the school may obtain overview of different types of attendance reports on the platform, such as daily class attendance forms, and export the data files for editing and analysis. When it comes to parents, she adds, "the school can choose whether or not to display their children' check-in and check-out time in real-time mode and provide optional daily attendance stats and yearly summary records to the parents."
Ms Chan is not worried about students forgetting or losing their smart cards, as the school has backup cards for students to maintain their attendance records. Headmistress Ms. Poon also says that students could learn to become more responsible and organised by looking after their own cards.
No More Hassle in Managing the Library
Ms Chan says eLibrary plus has saved a lot of work for the staff: "the staff have direct access to various catalogue data, borrowing stats, book-lending and cancellation status, and so on. Parents are able to monitor the borrowing records of their children anytime to follow their reading progress." Additionally, the kindergarten can customise borrowing criteria and book categorisation.
Headmistress Ms. Poon recalls that the initial set up was challenging: "It felt quite hard in the beginning because we had to first import the entire catalogue data into the system before the centralised management that followed. Fortunately, the system supports batch-import and has no need for manual data entry."
She is satisfied with the automatic procedures of borrowing and returning books: "the system can quickly locate a book and sorts out borrowing and returning data with just a scan of the barcodes on the books. Even if the students forget their library cards, the staff can still proceed by accessing their accounts on the system. It is all swift and convenient."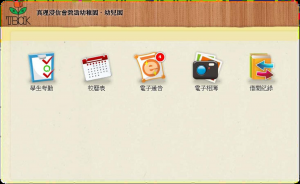 The kindergarten applies eClass KIS to multiple administration tasks and plans to expand its scope of use.
Ms. Poon concludes:

Apart from reduction of workload, online administration also offers more communicative channels for parents at work, fostering a better parent-school relationship.
Enjoying a Taylor-Made Service
Ms Chan emphasises the advantages of a school-based system, which would allow for custom book loan criteria, special lesson scheduling, photo pre-order etc. to cater to specific needs. Ms Poon says, "For example, our school provides photo pre-order service. It requires flexibility in the photo download function for parents to select photos for print."
The KIS system also allows her to redesign the means of data storage and make archival work more centralised and organised. "Electronic archive clears up considerable physical storage space on campus – attendance records, circulars, book borrowing stats and so on are all stored on the same platform. The information flow is more organised and round-the-clock access has become possible."
In spite of school documents, the personal particulars of current students and alumni would also be retrievable once they are recorded in the system. These data can be accumulated for 3-4 years so parents can review them in future.